Label Dispensing¶
I.e. separating the label from the liner and transferring the label to the applicator.
Separate the Label from the Liner¶
The dispensing edge is used to separate the label from the liner. When the label leading edge is at the dispensing bar the liner is stretched by the Rewinder unit and this releases the label leading edge from the liner.
For this to work there are a few thing needed:
The dispensing edge must not be worn.
The rewind torque must be correct
Labels are not allowed to be too flimsy
Label adhesive must not be hardened
Feeding the Label onto the Applicator¶
Applicator Print Position¶
The applicator position may vary between applicator types (see manual for each applicator), but in general the applicator print position should be 0.5 to 1.0 mm below the top of the dispensing edge.
The point of having the pad this distance under the Print profile is that the label extrudes out in an arc and is blown up to the pad. It also helps the label to come loose from the liner and eventual adhesive strings. See the documentation for the specific applicator for instructions on how to set the Print position.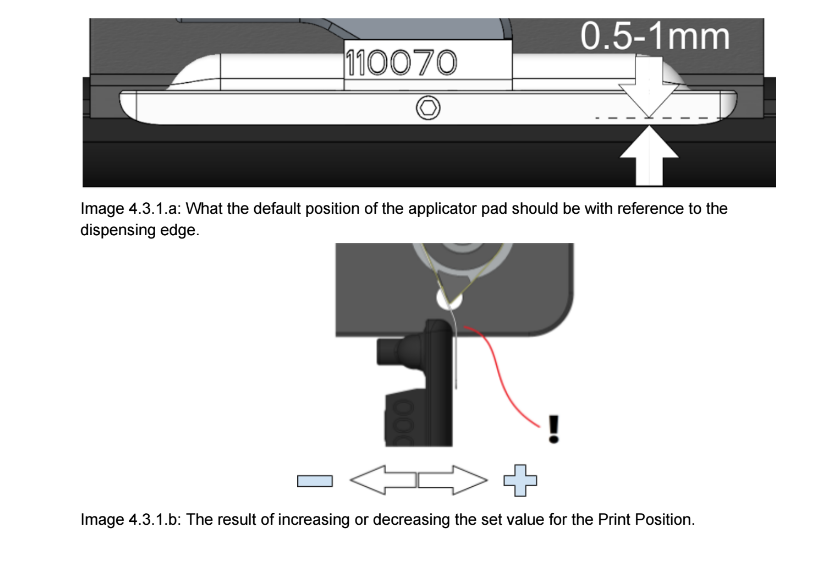 Applicator Pad¶
Which applicator plate to use depends on the labels used.
On the applicator pad there are a number of channels allowing under pressure (vacuum) to hold the label onto the pad. If a channel is open the under pressure will decrease significantly with less force holding the label as a result. In the worst case the label falls off the pad and will not be applied. If labels used that are narrower than the printer max label width, make sure that the labels are aligned with the applicator pad. I.e. that all the channels are covered when the label is held by the pad.
With reduced vacuum. the label apply accuracy may also be decreased as the label shifts on the pad during application.

Wrinkling¶
The label is nicely printed, but wrinkled after applied to the product.
As previously described, an under pressure (vacuum) is needed to attach the label to the applicator pad until it is applied to the product. A too large under pressure when the label is fed onto the applicator pad may cause wrinkling. Things to check:
The air pressure is correct
Air Consumption Reduction is on.
The applicator print position and worn (or dirty) applicator pad may also have an impact.
See applicator manual for further information.