Barcode Scanner Configuration¶
See also: Scanner in the User Interface Manual.
Alignment¶
Adjust the scanner so all barcodes to be scanned are visible to the scanner. Most scanners have an aiming indicator (e.g. green light) at the center of the scanning area. The indicator is enabled during scanning and should be aligned to the barcodes to be scanned.
Up and down
Physically tilt the barcode scanner in its bracket for up and down adjustments.
Left - Right and in - out adjustment
Left - Right and in - out adjustment can be set from the printer user interface Settings ‣ Applicator ‣ Apply Sequence ‣ Scanning Position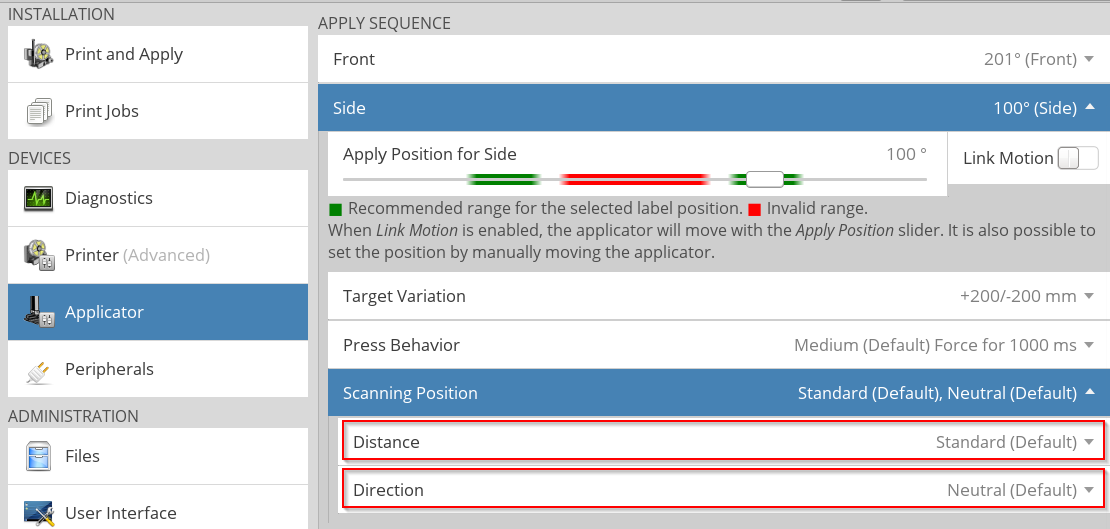 Distance: Move the scanner closer or further away from the barcode before scanning.
Direction: Adjust the scanner left and right before scanning.
The scanner alignment is set individually for each Apply Sequence.
Configuration¶
Some barcode scanners support the download of a configuration file. These configuration files contain barcode scanner settings and optimizations to increase the read speed.
In most cases the optimization means that valid barcode types, positioning and orientation are limited.
The configuration files are provided by Evolabel.
Leuze DCR 200 series¶
This is a short description of how to access the Leuze scanner configuration interface and how to upload a configuration file. Please consult the scanner manual (provided by Leuze) for detailed instructions of how to use the configuration interface and manually setup the scanner.
Network communication¶
The scanner IP is set to 192.168.60.101 and Netmask to 255.255.255.0 (Leuze default) This means that the PC network card must be set an IP number in the same network range (e.g. 192.168.0.100 and netmask 255.255.255.0 /24).
How to set fixed IP on a PC running Windows.
Network Cable Description¶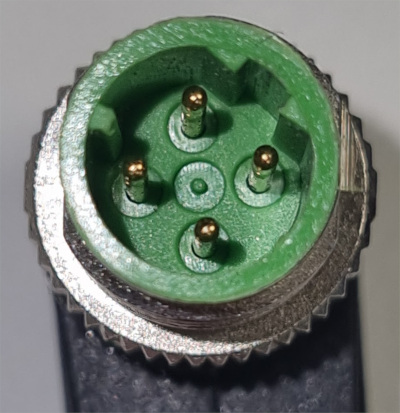 Cable type used: D-coded 4-pin, male to RJ45
Evolabel part number: C100192, M12 to RJ45 Network cable 5m, D-coded 4-pin (Leuze scanner).
Power the scanner from the Evolable printer and then connect the network cable to the scanner.
The network cable should only be connected during scanner setup.
Web interface¶
Open your web browser and enter the scanner IP address in the search bar.
With the web interface it is possible to see the scanned image. This is highly usable to verify that the scanner actually sees the scanned barcodes.
Scanner Modes¶
The Process / Service slider sets the scanner mode.
Process Mode

For scanner to receive scan commands it must be in Process Mode

Service Mode

Service Mode allows you to modify the scanner configuration.
Download a configuration file¶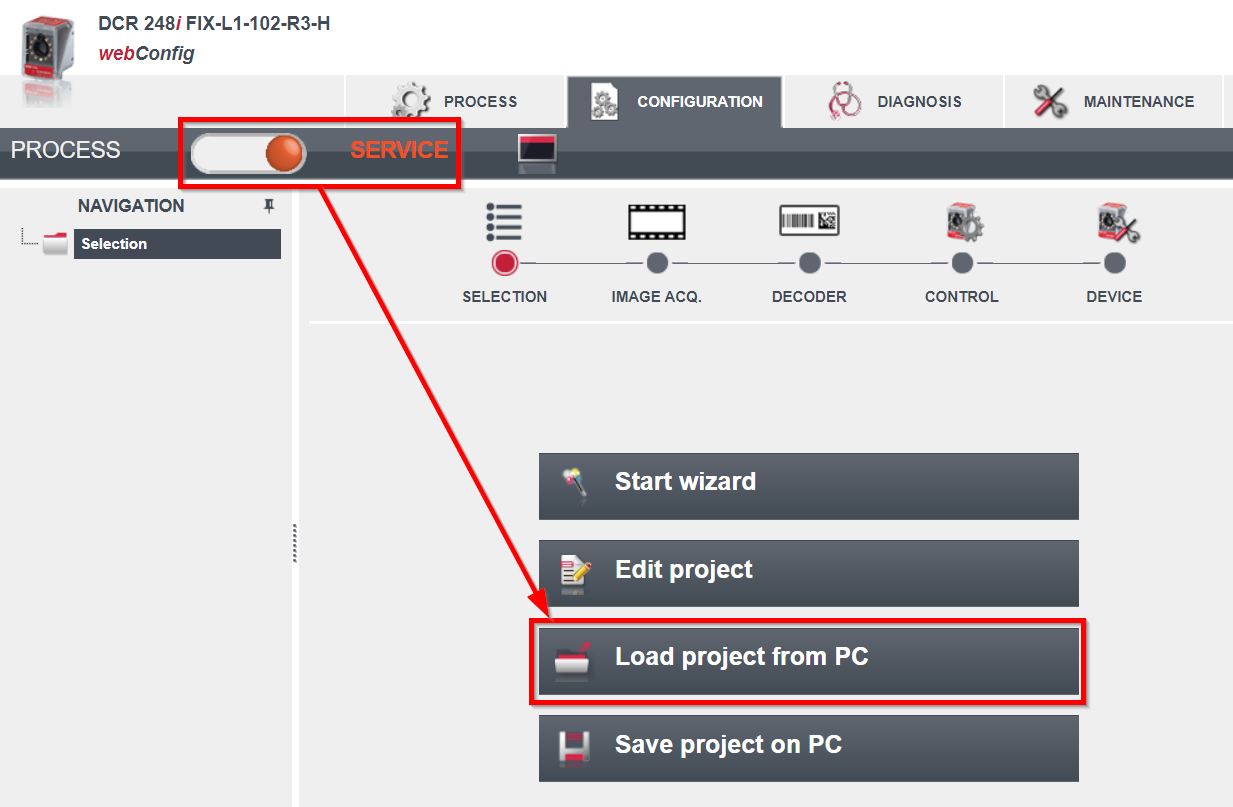 For Leuze scanners, the web interface is needed to download a configuration file.
Open the scanner web interface
Select Service Mode
Select Load project from PC
Select the configuration file and then press Ok.
There is no confirmation on successful upload
Select Process Mode